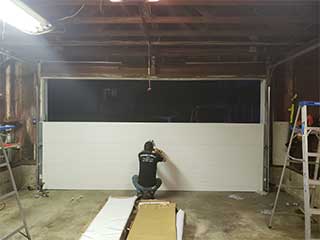 Let's face it, any mechanical system can breakdown, especially if it is in regular use. Assuch, your garage door may well require a repair at some point. Remember, garage doors can weigh more than 150 pounds – these complex, heavy systems should be handled by professionals to lower the risk of further damage.
Door Panels Can Look Worn
Door panels offer security and safety to your home. But at times they can wear down as a result of overuse, age and accidental bashes. If one of your panels is looking worse for wear, you may be able to arrange for just this panel to be replaced, saving money in the long run. Our technicians can assess the damage to your panels and advise you on the best way forward. At times, a problem with the panels may be an indication of more underlying structural damage. Besides, the breaking down of your panels can also spread to the struts and the track hence, potentially affecting overall functionality.
Broken Cables Can Be Frustrating
The problem with broken cables on your garage is that the method of fixing them is dependent on the type of garage door and spring system installed. Your cables are an essential safety feature and will help to prevent an accident in the event that one or more of your springs breaks. Our technicians are skilled at handling anything from worn out pulleys, cables or rust on cables so get in touch if you're dealing with a problem like this.
The Problem With Faulty Openers
Sometimes a garage door can get stuck halfway down while opening up and other times, a door might leave a small space between the floor and the door when it's supposed to be fully closed. Usually these kinds of problems signal a fault with the opener, but it probably won't be easy to pinpoint the exact cause. For troubleshooting assistance and a solution, don't hesitate to reach out to our technicians at Garage Door Repair Stone Mountain – we've got your back!
Want more? Let us take care of:

Garage Door Off Track Repair

Oil Tempered Torsion Springs

Genie Garage Door Openers

Part Replacement & Lubrication