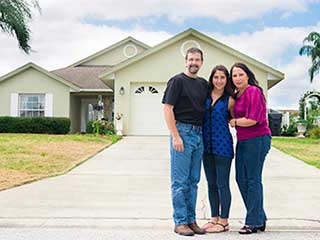 Many things bring joy to people, from playing sports and being with their loved ones, but how about renovating the garage door? Does thinking about a repair or remodel get the good feelings flowing? Most people wouldn't think so right off the bat but take a look at this survey - it explored the correlation between garage doors and happiness. It might start to make a bit more sense afterward!
All About Emotional Payoffs
The National Association of Realtors (NAR) and the National Association of the Remodeling Industry (NARI) conducted a survey among homeowners. This is what they found out: 74% of homeowners feel like staying in their home more after completing a renovation project, while 64% experienced an all-round increased enjoyment.
The same survey also gathered information from homeowners who had their garage door remodeled. The study used a scoring system called a 'Joy Score.' The score was based on how happy a homeowner felt after the completion of a renovation project, such as having a garage door panel repair completed.
Here are the results based on the questions that were asked of homeowners who had their doors fixed or installed.
What Was The Motivation For Improving Your Garage?
The homeowners' priority for putting up a new garage door was to make their homes more functional and livable (33%).
The homeowners' top reason for getting a new garage door was "to upgrade worn-out surfaces, finishes, and materials" (39%), while others felt it was "time for a change" when it came to the exterior of their homes (17%).
What Were The Results?
32% felt a sense of enjoyment after the project was completed.
61% felt a sense of accomplishment when they think about their completed door.
Having a new door scored a 9.5 (out of 10) on the Joy Score.
According to minimalist expert Marie Kondo, what is important is that you fill your home with things that spark joy within you. This can be something as simple as installing glass doors in your home. As most of us know, the more you invest your soul in something, the greater reward you'll likely get from it.
This has even shown to be true when it comes to garage door renovations with your garage. This makes sense - after all, an upgraded overhead door can improve the value of your home, make it more pleasing to the eye, and improve the garage door functionality. Who wouldn't be happy about that?!