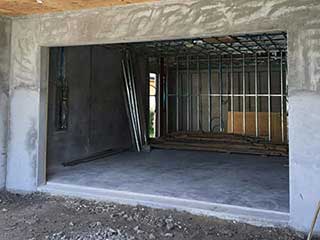 Although you may not notice it, every time you use your garage door the system accumulates a tiny amount of wear and tear damage. Every hardware part of the mechanism has a finite lifespan, and it will break eventually. However, with proper maintenance, that lifespan can be extended significantly, and a lot of problems and accidents can be prevented.
The Importance of Routine Spring Adjustment
If we had to choose which parts are the hardest working parts of the system, the decision would be easy. Your garage door springs are by far under the highest amount of stress, and they have to be able to support and counterbalance the weight of the panels on a regular basis. For that reason, it's important that the door's balance is tested every so often, and that the tension of these hardworking components is adjusted periodically. This is a task that should only be performed by professionals (that's us!) because mishandling the springs can be very dangerous.
Checking The Safety Features
Your garage door opener is not just responsible for automating the operation of the mechanism; it is also in charge of your safety. That's why its features need to be checked and tested, which is another main focus point of our maintenance service. We will make sure the photo eye sensors are properly aligned with each other and that the door's auto-reverse mechanism is fully functional. If your door can't reverse properly, it is posing a serious safety risk.
Improving Overall Performance
Your door system consists of lots of moving metal parts that need to be lubricated regularly in order to stay efficient and silent. We will apply lubrication to the hinges, the steel rollers and the torsion springs, and inspect them while we do so, to detect any minor issues, should they exist.
Contact Us Today
Give our experts at Garage Door Repair Stone Mountain a call and let our professional technicians make sure your automatic system is properly cared for. Our maintenance service will help you avoid a wide range of problems.
Count on us for:

Door Level Alignment

Part Replacement & Repair

Galvanized Torsion Spring Replacement

LiftMaster Garage Door Opener Repairs