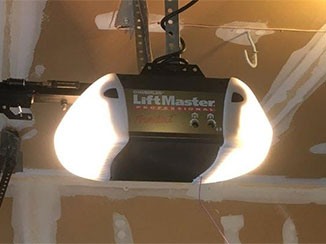 You've decided you need a new garage door opener installed but you're confused about what type you need. A little research and some quick inquiries will put an end to all the worry and help you get on the right track- so to speak. You can never be too thorough when purchasing the best type of door opener for your home. There are several types available, like the belt drive opener and the screw drive opener, but, perhaps you've heard good things about the chain-driven garage door opener.
Chain Drives Are Strong
One of the first and foremost reasons to choose this chain type is an obvious one- strength! Lifting double garage doors or even a wooden door is a piece of cake for a chain-driven system. Another top reason is that these systems are able to bear well in any temperature and don't slip in high heat and humidity like a belt-driven opener is prone to do.
Value For Money
Longevity is also a factor as chain drives can outlast belt systems most of the time. The popularity of the chain drive is also down to its value for money - in our opinion, it's one of the most cost-efficient of the openers out there.
Not Completely Silent
Reliability and strength are unbeatable but the door can come with a few drawbacks. For one, it can be noisier than one that is belt driven. Plus, if not kept lubricated from time to time, a chain system can rust and slow down or become a little shaky upon operation. All these considerations are not too earth-shattering, however, the final decision will depend on the layout of your property and how much a little noise and maintenance is likely to impact you.
Some Maintenance Tips
One of the common maintenance problems that can crop up with these systems is loose hardware. The best advice is to tighten the hardware a few times a year to prevent any loss or loosening of the components. Another tip is to keep the chain lubricated with an oil like WD40 about twice a year to keep it running smoothly and less noisily. You should also keep an eye on the chain and adjust any slack you notice to keep things working optimally. Note though that this last tip is not really likely to be necessary until perhaps a year or two of continued use.
Interested in learning more about the opener options available to you? Just contact our repair professionals at Stone Mountain to discuss things further!